Saab Cars are known for Safety
This real-life story comes from the roads of Rhode Island, where a Saab car owner was involved in an accident where his Saab 9-3 Aero saved his life.
We love telling those real-life stories where an owner of a Saab comes out of an accident without any bumps or bruises. We especially love when an owner tells us their story of their Saab 9-3 Aero saving their life. So, it's true; Saab cars are built with advanced safety in mind.
Check out this Rhode Islander story of how he survived crossing three lanes of traffic on a busy highway.
One winter while driving on one of Rhode Island's interstate highways, a Saab 9-3 Aero owner hydroplaned causing his car to spin uncontrollably while crossing three lanes of traffic. Even with Saab's Electronic Stabilization Program (ESP), the slippery roads won out. The car stopped when it got caught in the guard rail.
Unfortunately, the 9-3 was not meant to drive again but the driver walked away safe and sound. As you can see from the picture below, the rear was ripped off the 9-3 as well as some side impact damage. The driver reported that the crash felt like nothing. The Saab's active head restraints and deployed airbags protected him as the car was spinning across the highway.
Founded by 16 aircraft engineers with expertise in pilot safety, truly inspired future engineers to build a safer car. To make sure that your car is in the best shape possible to protect you on the roads, regular maintenance is a must.
With MySaabCar Online, you can easily book a service for your Saab at your closest Saab Official Service Center. Maybe it is time to get your brakes checked, change your oil, or just replace your windshield wipers. Doing regular maintenance and installing original Saab parts on your car also ensures that you maintain the value of your Saab car.
Plus, when you install original Saab parts through one of our authorized service centers, you can register those parts for a lifetime parts and labor limited warranty.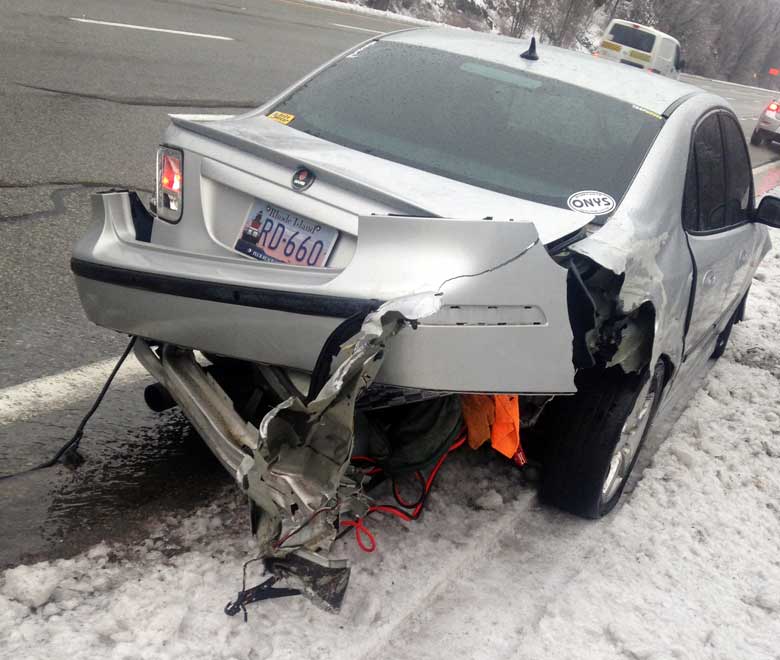 The rear bumper was ripped of the car, but the Saab protected its driver.